Stefanie

pic of me in 2012
Vital statistics
Age
Less than 21
Gender
Female
Nationality
Guess....
Height
not telling
Town of birth
Bethlehem, Pa
Current location
Pennsylvania
Occupation
Volunteering, Wikia, Being addicted to computer o:
Parents
Christy and Larry
Siblings
none! only child!
Love interests
Ask me and I might tell you...
Pessimist or optimist?
Little of both...

I am Evelyn's good friend on the wiki! I saw her come on Phineas and Ferb chat as iloveferbmorethenyou16. I went to her page and saw EVERYTHING about Ferb everywhere! I knew she was a die hard fan, I HAD to talk to her! So I PMed her on chat and I am glad that I did. We got to know each other over time, and I am glad that I did. We discover we have a lot in common: Music, TV shows, and even some personal issues.
But Evelyn is a great friend of mine, she can crack me up! She comes on PnF chat, her wiki chat and my wiki chat and we have a blast talking! At least I do! I love to listen to her talk about what she likes, including her husband Bart Simpson! Bart, AKA her current wiki background as well! She loved Ferb, but soon fell for Bart, so now she is ilovebartmorethanyou16.
I like to come on her wiki and comment, add pages or photos, anything I can do to help her. The awesome thing is we both live close to each other! I hope to meet her one day! :D You never know! Anyways I hope she does not mind me making a page on mee, and me and her's friendship! Let me know Evelyn! :)
Oh and another thing I like about her is that she does not always correct a lot of her typos, and she just lets them be and it looks like a mess of alphabet soup sometimes! :)
Bronyland Personality Test results
Edit
As of 6/21/13
Edit
Stefanie is Rarity!
You have a knack for drama and overexaggerating things, as well as doing whatever you can to keep from getting your hooves dirty. But, putting that aside, you're also very self-conscious about yourself, are generally very polite (unless someone deserves a little of your attitude), and have impecable manners and sense of style.
Just because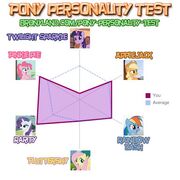 you delight in being the center of everyone's attention doesn't mean you give no attention in turn. You're incredibly generous, showering your friends with gifts, spending time with them and doing fun things like shopping and makeovers, and doing everything in your power to help elevate your friends' self-worth. Even though a friend may be more popular than you, you are still willing to help them out with their success, hoping that you'll get your piece of the pie in turn.
You have a tendency to be overly obsessive over small details, sometimes worrying too much about them rather than looking at the whole picture. Your attention to detail does come in handy at times, though. You also loooooove fashion, style, and looking as good as any pony can be! Whatever it takes to look as classy and elegant as possible — that's your motto, because you care how other ponies see you, and want to make sure that your impression is the one that stands out the most.
More About Me

Edit
I am about 5 feet tall and nothing over...yet!!
I am 17 as of July 2012
My bday is January 3
I live in Pa (City withheld)
Evelyn is my best friend on the wiki! I am so glad to be friends with her!
I have anxiety issues...
I have a big crush on a guy named Ian! Ian I ♥ you! (If he sees this...sorry it's true I told you I really like you and I do! You're very special to me!)
I have my own wiki... http://iamasuperstar.wikia.com/wiki/I_Am_a_Superstar_Wiki
I am an admin on this wiki because I love to help Evelyn!
I like Selena Gomez, Demi Lovato, Taylor Swift, Adele, Maroon 5 and The Jonas Brothers. I have to admit I like Justin Bieber's new music better than his old stuff.
I love to make typos but I am trying very hard not to here! I love when me and Evelyn make typos because it's just so funny, they can come out hilarious! Check out the typos page! I made it with Evelyn's help of course!
On 8/12/12, 5 PM...me and Evelyn were on chat and I said a quote she thought was great! (Surprisingly no typos!) I said: "Pics of our men are always a blessing!" It's true when we miss them and need to see them we have pics of them. :) (Hinting to Ian and Kenny/Bart)